Looking to boost your income? It may be time for a career change. Here are ten of the highest paying programming jobs available right now.
For the last decade, tech companies have been viewed as some of the best employers. A huge chunk of millennials has opted to study tech-related courses such as programming in hope that they will work in these companies. Landing a job in a tech company typically means that you earn a sizeable salary and enjoy perks such as free snacks, happy hours, etc.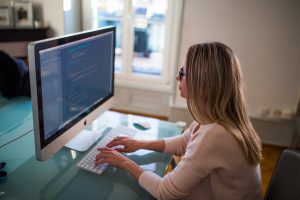 Although tech-related careers are considered lucrative it doesn't always turn out as expected. Sure, you will find companies with the highest paying programming jobs but you will also realize that these jobs are reserved for highly skilled programmers.
Top 10 Highest Paying Programming Jobs
Below are some of the most lucrative programming jobs.
1. Data Scientist
A data scientist makes analyzes data and makes value out of the data. Data scientists utilize their statistical, programming and analytical skills to collect, analyze large data sets. Data scientists are required to have a wide range of skills from machine learning, coding languages to databases.
Due to the nature of the tasks they handle, data scientists work in teams that comprise of different skills. The average salary of a data scientist is $117,345.
2. Back End Developers
Back end developers focus mainly on 3 things on a server, the software application and the database. A back end developer is tasked with creating code that allows easy navigation of web pages. They are in charge of writing code and APIs that are used by mobile application developers and, front end developers.
The average salary of back end developers is $117,284.
3. Software Engineers
From 2017 to 2018, the salaries of software engineers has grown by 5.1%. It's expected to continue growing as the demand increases. Software engineers are tasked with writing, testing, maintaining and debugging software. They are required to be proficient in several programming languages.
Although most software engineers have undergraduate degrees in computer engineering or computer science, there is still a big percentage that is self-taught. Typically, most employers are interested in technical skills and experience.
The average salary of a software engineer is $111,000.
4. Full Stack Developer
Full Stack developers are tasked with both front and back-end web development. Full stack developers are responsible for designing user interactions, coding for mobile platforms and developing servers and databases. They are required to understand several programming languages such as PHP, CSS, JavaScript, HTML, etc. They oversee projects from the conception stage to completion.
According to indeed, the average salary of a full stack developer is $110, 668.
5. DevOps Engineer
DevOps engineers work together with developers and/or software engineers to oversee code releases. They are tasked with deploying and operating systems.
They troubleshoot and quickly resolve issues in dev, test as well as production environments. DevOps engineers are responsible for dealing with multiple situations at a time. They can work in a wide range of work environments from small to large companies.
The demand for DevOps engineers will remain constant with about 51,000 job openings every year. And their average salary is $107,000.
6. Machine Learning Specialist
As the demand for machine learning experts continues to increase, so does the remuneration. Companies like Microsoft and Google require the services of machine learning experts innovations such as self-driving cars.
Machine learning specialists are tasked with developing machine learning. They design and implement highly sophisticated algorithms.
These algorithms can learn from data and make predictions. They are also required to perform explanatory data analysis.
The average salary of a machine learning specialist is $108,000.
7. Developers with a Background in Statistics or Maths
Today's world is data and information driven. This makes developers with either a mathematics or statistics background very valuable.
In fact, they are among the best paid in the US. It's estimated that their salaries will continue to grow at a steady rate for the next few years.
The average salary of these developers is $101,000.
8. Application Developers
Application developers are tasked with creating and testing programming application and software for computers. Currently, applications are available in almost all computing devices from desktops to handheld devices.
Application developers work with other developers to come up with ideas and concept for new applications. They are required to have a good understanding of coding languages and their applications in creating fresh usable applications.
Depending on the project, application developers will work with software experts, data scientists, and graphic designers to create applications. Once these applications are created, the developers then test and fix any problems that arise before the application is launched.
Currently, the average salary of an application developer is $98,260. The growth rate of application developers' jobs is expected to continue at 19%.
9. Embedded Developers
The main duties of an embedded developer are to design, develop, decode, test and debug system software. They also analyze and enhance efficiency as well as the stability of a system's resources. In addition, embedded developers asses open source and third-party software.
The average salary of an embedded developer is $87,621.
10. Business Systems Analyst
Business analysts are tasked with overseeing and developing the company's business operations. They are required to have both technical and business expertise. These highly-analytical specialists are tasked with establishing system protocol and recommend new protocols where necessary.
Ideal candidates are required to have an undergraduate degree in computer science, business or any other related field. The average programmer salary for a business systems analyst is $75,304.
What Are the Most in Demand Programming Languages?
According to a survey by Stack Overflow, the most popular programming language is JavaScript. The second is Swift, which is used in Linux apps, macOS, native OS, etc.
The third most popular language is Java and it has been around for more than 2 decades. It's commonly used in the Android operating system and Android apps. The average java programmer salary is quite high compared to the average programmer salary.
Get the Highest Paying Programming Jobs
The average salary will vary depending on the company and the city of residence. For example, Silicon Valley has some of the highest paying programming jobs in the US. Cities such as New York also had higher salaries compared to cities like Chicago.
Contact us for more information on coding and how to hire the right coders.